Maybe your guitar Hold F chord too difficult.
Because of nut it too high for your fingers strength.
This is the solution for make your guitar play easier.
The way is
1 ) Remove Nut (Go to 2.1 If you won't to remove the nut.)
2 ) Sand it with sand paper : 2.1 Edit Height without remove nut.
3 ) Replace It
4 ) Let's Play it


How to Remove nut from your acoustic guitar ?
Before you do anything. you must have some tools.
1 Wood Glue like Latex Glue or another glue.
2 Sand paper
3 Ruler
4 Pencil
5 Little Hammer
6 Something you can hit by Hammer.
First Step
1 ) Remove your strings and
Use something paste between the Nut
Like this picture.
2 ) Use your hammer to hit. (Hit with softness)
3 ) See picture
4 ) It will removed.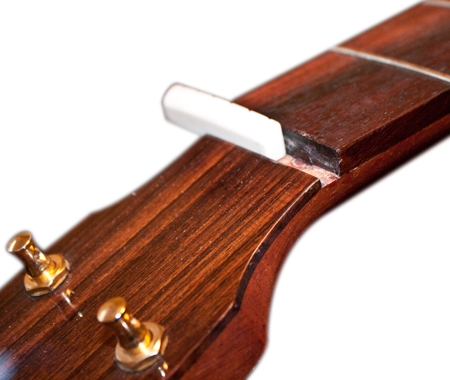 Next Step
Edit your nut height.
How to Edit your nut height ?
After you removed your nut.
Now, we need to mark. To determine the extent for your sanding.
Mark with a pencil at the base of the Nut,.
Sand it to make it lower, bit by bit.
Imagine it look like nut :D
Don't sand it too hurry because it will make your guitar string buzz when you are strumming.
Sand it a little bit and tune your string to normal to test
and then
you will edit your nut again and again
(For mistake Sanded , you can use something past under the Nut)
About
string slot from the nut.
The best height is
High more than 1st Fret about 0.25 - 0.75 mm.
If it taller it will make you play harder.
If it lower it will make the buzz sound.
So the Last step.
How to Replace the nut ?
Use some glue at the bottom of nut
and paste it in to nut slot
Wait for 2 Hours for make sure the glue was dry.
Now your guitar can play easier at 1st - 5th fret.
If you want to make 6th - the last fret play easier
You must see this
to Edit your saddle...
http://acousticguitarsetup.blogspot.com/2012/09/how-to-edit-your-guitar-saddle.html